Our PC's for People Brainerd office is in the process of sunsetting. Our final open office day is April 30th, 2023. Though this office is closing, PC's for People remains a wonderful resource for low-income families and individuals across the United States. Please visit www.pcsforpeople.org for more information on their services and products.
A huge thank you to our community for supporting our youth and TheShop's mission to mentor youth to improve overall wellness and develop assets to support healthy life transitions.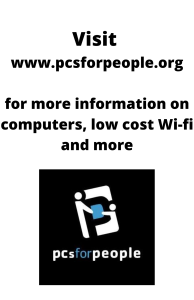 PCs for People Youth Project @ TheShop is a rural affiliate of PCs for People in St Paul, MN and the first to work with at risk youth. Our vision is to provide youth hands on training in computer technology and provide opportunity to develop workplace skills.
Using donated computers youth learn to refurbish, repair and install new operating systems. These computers are then distributed to low-income families and individuals.
Our Covid year began with a total a loss of students. With one adult staff and one youth staff working 8 - 10 hours a week we transitioned into distributing desktops and laptops that had been completed by students before March of 2020. These were needed in homes to support distance learning and for many who suddenly required to tele-health their mental health appointments. As a service to many homes we included training on basic computer knowledge and offered phone support to any who needed it.
The year of distributions left our shelves empty. We are restocking our inventory with upgraded donations to 5 years old or newer due to refurbishing protocols we follow. To help our community we have upgraded our E Waste Recycle Program by collaborating with PCs for People in St Paul. We now have 2 E Waste Recycle days to offer as a drop off point for electronics, one in October and one in May. St Paul has the facilities to properly recycle E Waste and we are happy to help in their efforts.
PCs for People Youth Project is successful thanks to:
TheShop
723 Washington Street
218-454-0009
Wednesday – Saturday
3:00pm – 8:00pm
PCs for People
By Appointment
Call 218-454-0009 or Email: brainerd@pcsforpeople.org