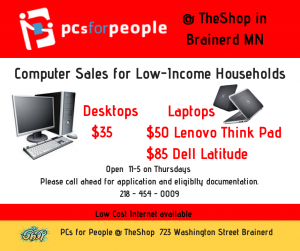 PCs for People Youth Project @ TheShop is a rural affiliate of PCs for People in St Paul, MN and the first to work with at risk youth to develop workplace skills.
Our vision is to provide youth with hands on training in computer technology.
Using donated computers youth learn to refurbish, repair and install new operating systems using Microsoft Refurbishing Protocols. These computers are distributed to those in need.
How do I qualify for a computer?
To receive a computer from PCs for People an eligible applicant must meet one of these conditions:
Family income 200% below poverty level
Is or lives with individual with a disability
Receives food support
Lives in section 8 or other subsidized housing
Part of national "free lunch" program
Low income home energy
Computers are available for $5 – $35 for Desktop systems and $85 – $100 for laptops.
PCs for People Youth Project hours are Thursdays 11-5.
Please call ahead as availability of technicians may vary.
218-454-0009
PCs for People Youth Project is successful thanks to:
Rural Poverty Grant was awarded to The BBYC Shop's PCs for People Youth Project promoting workplace skill development for rural youth.
The Shop, Brainerd / Baxter's Youth Defined Space, was awarded $6,000 from the Best Buy Children's Foundation in 2016 to support The PC's for People Youth Project @TheShop. We thank you for your vote of confidence.
The Initiative Foundation granted financial support to the PC's for People Youth Project @ TheShop. Their ongoing trainings and support to all non-profits gives us a boost in this competitive world. Thank you from the top of our hearts!
PCs for People is supported in part with funding from the Blandin Foundation. "Rural leaders know that connected communities are vibrant communities," said Dr. Kathleen Annette, CEO of Blandin Foundation. "We are delighted to see the Brainerd Baxter Youth Center tap into the passion of their young people to expand access to – and use of – high-speed Internet so critical to work and life today."